National Museum of Nature and Science in Tokyo
In Ueno is the National Museum of Nature and Science. It is another popular place in Tokyo. Many of the exhibits date from pre-Meiji Japan. And it is the resting place of a well-known Tokyoite! On top of that, it has a secret photo spot.
I do need to say one thing first. Most of the museum's exhibit plaques are in Japanese. They used to have audio guides that would talk you through everything. But due to the current world situation, they are no longer available. Now, there is only a guide you download to your smartphone.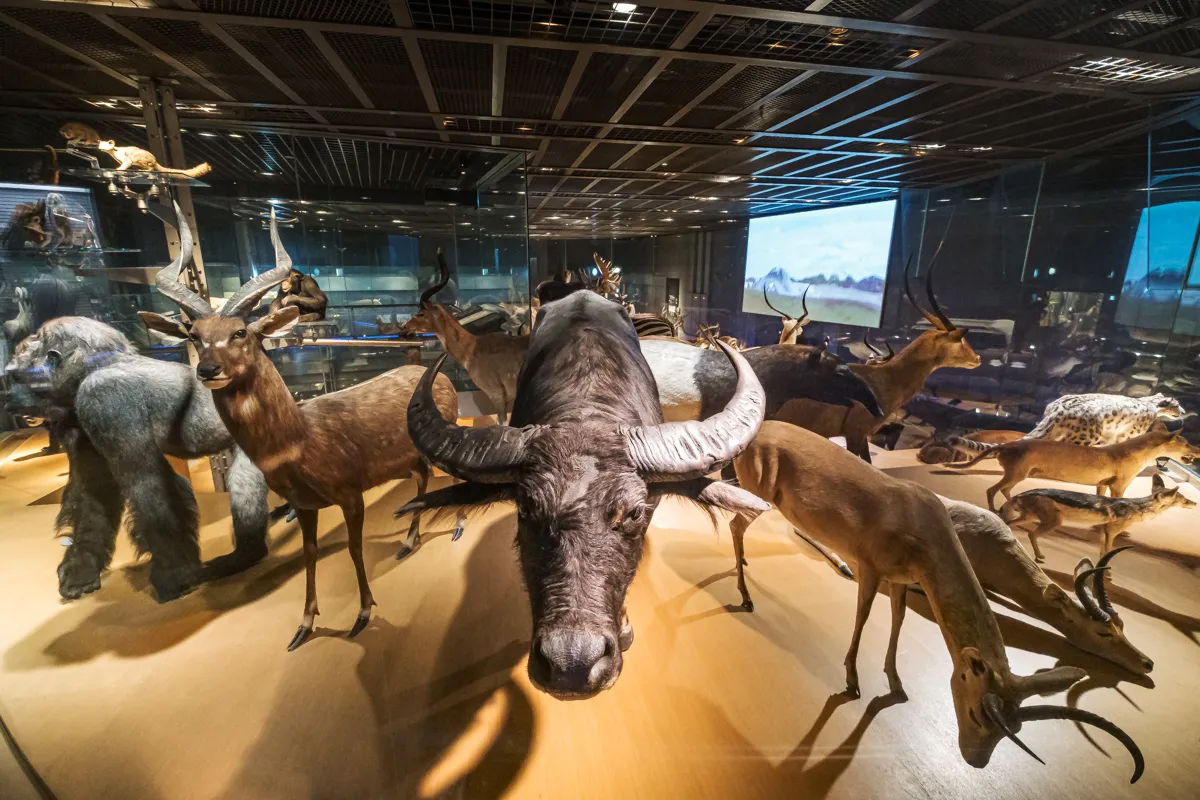 Anyway, let's move to the exhibits of the National Museum of Nature and Science. There are two areas for them, the Japan and Global galleries. They are pretty big and will take a long time to walk through.
The Global gallery explores the evolution of life on Earth. Everything looks at everything from dinosaurs to deepsea submarines and spaceflight. It's a fun area.
Then there is the Japan gallery. It takes up three floors. Inside are exhibits of natural history, science, and technology. There are species that have lived and died in the archipelago. There are also some of the technologies man created to observe nature. Some of the exhibits include early telescopes, globes, clocks, and seismographs.
And this is where you will find our celebrity! It is Hachi (or Hachiko if you prefer), the famous dog. His grave is in Aoyama Cemetery, but his body was stuffed and placed in this museum. Many people have no idea his body is in the museum.
The Permanent Exhibit also houses Theatre 360. Movies change every month and run for ten minutes. It is suspended above the floor so you will see everything around you. I've enjoyed its content, but I have heard some people who didn't think they were so great. And the narration is in Japanese. That will be problematic for some people.
The other gallery is for special exhibits! It changes four times a year, and tickets are extra. The prices for them depend on what is on display. Some past ones have included Egyptian mummies, baby dinosaurs, and chocolate.
I think I've already covered a lot.  There are so many exhibits, including dinosaurs and spaceships.  Do you remember me talking about the secret photo spot?  On the second floor, in the lobby, look up.  You will see a fantastic ceiling.  It is gorgeous.  If you enjoy architectural photography, it might well justify the price of admission!
What photography problems are there?
Photography at the museum can be difficult. Here is a list of things I've noticed:

Like many museums, it can be very dark in places. High ISO will be necessary.

The glare and reflections of the display windows can be terrible.

It can get crowded, so you'll need to work with the crowds.
The National Museum of Nature and Science details
See the museum's location, admission costs, and opening hours on the official website.
Wrapping up
The National Museum of Nature and Science will interest certain photographers. They will be the ones who love things technical and scientific. There is a lot there to keep them happy. But it is a great place to spend an afternoon!
But for most photographers, it probably isn't a must-see. Still, there is some stuff worth some photographs. It does have Hachiko and that wonderful ceiling.
And let's not forget that it is in Ueno. There is much in the area to see. Some nearby places are:
You can leave questions and comments below. If you have been to this museum, please tell us what you think. In my opinion, it is pretty good.